1900: Gilbert Waters builds the Buggymobile
If he'd found investors, maybe we would have been Detroit.
| | |
| --- | --- |
|  Gilbert Waters drives his Buggymobile with an unidentified friend (Photo courtesy of North Carolina State Archives). | The Buggymobile today at the North Carolina Museum in Raleigh.  |
If we had just listened to Gilbert Waters, we might all be driving Buggymobiles as proudly as we drink Pepsi right now. New Bern would be the real Detroit. Who knows, we might have even wound up with Motown. Or the Pistons.
Gilbert S. Waters was the son-part of New Bern's "G. H. Waters & Sons Buggy and Carriage Factory" in 1899. It was a fine career with no future, though no one knew that at the time. Not long before, Karl Benz in Germany had turned out his little horseless carriage, a queer contraption with a backfire that was heard 'round the world. Buggy-makers everywhere looked nervously up when they heard it.
But not in New Bern. "Nonsense!" they growled, and touched up their horse's behind.
But Gilbert was different.
In 1899, he'd gone to Baltimore and seen his first horseless carriage. Ideas and thoughts of fortune popped into his head.
By 1900 he'd built his first "Buggymobile." It was compact—about seven feet long, three and a half feet wide and four feet tall. It was steered with a tiller rather than a wheel. He eschewed the popular steam engine for a one-horse-power beauty that ran on gas.
He showed it off with a 12-mile-an-hour jaunt down the main street, but potential backers were not impressed. Too expensive! they argued. Too dangerous! Impractical! One old dinosaur told him to keep his day job: the horse and buggy would never go out of style; these gasoline-driven monstrosities would go the way of--well, you know.
It reminds one of the day a young Mark Twain offered to write a book for a New York publisher. The publisher frowned, waved at all the bookshelves in his office and shouted, "Books? What do I want with more books!" Of course, Mark Twain went on to write many books, and that publisher is known today primarily for being a short-sighted fool.
Unfortunately, Mr. Waters' story doesn't end so well. With no money his plans went flat. Meanwhile, up in Michigan, Henry Ford was landing fat cats who shared his assembly-line dreams.
Still, Mr. Waters didn't give up his love of horseless transportation. He built a second Buggy-mobile in 1903, cannibalizing his original model. The new one topped a speed of 35 miles per hour and got forty miles on a gallon of gas. Thirty-six years later, it was still hopping about and doing fine. He even displayed it to the nation by firing it up on national radio.
That car still exists at the state museum in Raleigh, a strange little buggy with a tiller in front and a motor under the seat. It looks to be in pretty good shape, and it doesn't take much to imagine Mr. Waters chugging up and down past the Elks Building, like he did in the forties, feeling the wind and dreaming of what might have been.
1904: Death of a Fireman
Johnny Gaskill may have been the first volunteer fireman in New Bern to die in the line of duty... but the evidence is not clear.
This plaque at the New Bern Firemen's Museum memorializes John J. Gaskill.
The New Bern Firemen's Museum lists Johnnie Gaskill as our first fireman to die on duty. His story, it seems, is full of questions and at least a little conjecture possibly brought about by the silence of the newspapers of the day.
A New Bern native born in 1875, he was a popular firefighter and was assistant chief of the New Bern Steam fire company when he died on November 6, 1904. He was, his obituary claimed, "one of the best informed men on general topics in the city."
The generally accepted story is that he died after being kicked by a horse at the scene of a fire. This sounds credible; horses and men were what pulled the fire fighting equipment around here in that day. We know that Gaskill was fond of at least one of the horses, named Ben. This particular beast was chosen to pull his hearse and he was "an animal for which John had great affection and of which he often spoke," the Daily Journal related (spoken, the English major in me screams. Spoken!)
Oddly, the newspaper declared his death to be the result of a "brief but very distressing illness… He had been sick for two weeks and from the first his case was regarded as desperate." A search of the newspapers of the day finds no fire within a two or three week period before his death. Of course it is possible that the fire was a small one, ignored by the press; the accident could possibly even have occurred during a training exercise. The troubling question the researcher meets is that the paper does not refer to any accident—but to an illness.
Gaskill's injury might not have been mentioned if it was not immediately deemed life-threatening (although we do have that "case regarded desperate" line going). But even if newspaper had not heard of the horse kick, why didn't it know there'd been some kind of accident?
Interment records list his cause of death as an "abscess of the liver." A horse's kick could certainly result in that, and he might have died slowly from the resulting infections. One possibility is that he so loved the horses, that he begged his family and companions not to let the horse's act be known, because he didn't want the town to think badly of, or possibly destroy, the horse. Reads a little like a bad turn-of-the-century melodrama, but it is at least feasible.
Still , twenty-seven years later, the Daily Journal would declare the death of fireman Edgar B. Eliot as the first for a New Bern fireman on duty—and repeated that statement two days later. It certainly makes for a curious puzzle.
Is it possible that his fondness for the horses and its mention in the press, over time, became a little skewed in popular memory: legends grew and became "fact." His startlingly young age would have leant weight to the horse theory.
Whatever the case, Gaskill received a hero's burial, and can assume he deserved it. Both the Steam and Atlantic fire companies lined up for the service at Centenary Church and escorted the body to Cedar Grove Cemetery—quite an accomplishment considering how those companies got along in those days.
This column first ran in the New Bern Sun-Journal on November 9, 2009.
1911: The Athens Theater Opens
Some might be better, the local pressed claimed, but none were better.
 Still in use as a community theater, the Athens today is longing for restoration to her days of glory.

"Conducted along the most progressive lines!" "No expense was spared!" "Others might be larger but none better!"

Such were the enthusiastic reviews in the Illustrated City of New Bern, 1914, and now Messrs. Lovick and Taylor are ready to bring you the greatest show on… uhm… Pollock Street.

The Athens Theatre opened its doors under the management of Lovick and Taylor on April 12, 1911, "an event in the growth of the city," according to the New Bern Weekly Journal. Designed by the celebrated architect Herbert W. Simpson and paid for by William Blades, a lumber baron who saw New Bern as his personal erector set (his buildings are everywhere), it was a $25,000 marvel. When one looks at the building today, with its painted-on memories of yesteryear, it seems a tired structure dreaming of a future in the past.

Here are some of its original glories:
"Entering the theatre the attractive interior is seen to have a scheme of color in green, the walls, furniture, seats and drapings being in that color. The theatre accommodates 700 people, of which the balcony provides room for 200.
"…There are six dressing rooms, toilet and lavatory and property room… The drop curtain represents 'Ben Hur Chariot Race' and with the scenery, was furnished by the Kansas City Scenic Co.
"…At the sides of the stage are 4 boxes, 2 on each side… the chairs are of mahogany and leather."
The foyer and façade were no small potatoes: "There are hundreds of electric lights and a large electric sign showing the name of the theatre in red lights, and also two flaming arc lamps of 4,000 candle power each. The front entrance is in tiling and the mosaic settings in the floor represent 'Tragedy' and 'Comedy.'"
Their article (April 11, 1911, if you wish to look it up) describes the lighting machinery and a magnificent aluminum "silver screen." Strangely it also spent a couple of paragraphs exits, fire hoses at-the-ready, and an auxiliary lighting system of gas. Children on the dawn of the first World War must have been dazzled by elaborate lights and surroundings as they laughed their way through vaudevilles and the antics of Buster Keaton and John Barrymore.
The current occupants are working to raise the funds to restore the Athens to her original glory. We look forward to the day.
This column first appeared in the Sun-Journal on April 6, 2009.
1922: The New Bern Fire
The biggest urban fire in North Carolina history began as a humble chimney blaze.
One of numerous houses blazes away in the New Bern Fire of 1922. Roughly one-fourth of the town went up in flames.

Sometimes, it's a matter of perspective.

They thought it was a big deal when the Rowland Lumber Company —one of the largest in the state—was burning down. But it was a little house over in Five Points, one hour later, that burned New Bern down.

The fire of 1922 was a big deal. Sure, it wasn't Chicago and it didn't involve an Irish woman or her cow, but it did turn one-fourth of the town to cinders, left about 3,000 homeless, and altered this town's African American community for years to come (this, because the vast majority of the damage was done in their neighborhood).
What do you call serendipity gone bad? What ever it is, New Bern had it.
December 1st was supposed to be a big sports day for New Bern. It was the day after Thanksgiving, that season when turkeys on the table are only outweighed by potatoes on the couches blinking dully at football games. Only there was no TV. If you wanted to take in a game, you had to actually go.
The local team was in an eastern state championship that night in Raleigh. Special trains carried over 300 New Bernians to the game that morning—many of them firemen the town would soon desperately need.
Around 8 a.m. the fire alarm sounded at the Rowland Lumber Company, and every able-bodied man and engine was sent to fight the conflagration.
Cross town now to a humble dwelling on Kilmarnock Street. Dr. Samuel Bryan, then a four year old grandchild of the residents, the W. D. Bryans, was there. "I was eating my meal at the table," he later recalled, when a child, drawing water from the community pump located at the house, happened to glance up at the roof.
"Miss Bryan," she called, "Your chimney is on fire!"
The words set everyone into action. "They went out and started moving out the furniture," he recalled. Others scaled the roof to try to fight the fire. Little Sam, still at the table, was forgotten in the all the rush.
Finally someone asked, "Where is Sam?" They looked to the kitchen door, now barricaded shut with furniture. A man cleared the door and burst inside to save the child. But "I wasn't worried about it. I was eating."
Three houses were burning before a fire truck arrived—and it was missing the couplings to connect its hose to the water lines. This caused a further delay.
While they fiddled, so to speak, New Bern burned.
By the end of the day a forty-block area was gone. New Bern was permanently changed.
This column first appeared in the New Bern Sun-Journal on November 26, 2007.
1927: Adoption of the State Song
The General Assembly finally adopts William Gaston's beloved antebellum song.
Alright! Break out the guitar and the mandolins. Here we go:

"Hurrah! Hurrah! The Old North State forever!




"Hurrah! Hurrah! The good Old North State!"




With those immortal words (well, let us at least say sincere words), William Gaston, state supreme court judge and deeply beloved New Bernian, penned his thoughts of his home state while in Raleigh one day long past. His lyrics were born of an Antebellum age of romance and Walter Scott novels, and some of its homilies leave the modern reader/singer with a quizzical expression, wondering whether they've been complimented or insulted:

Plain and artless her sons, but whose doors open faster

At the knock of a stranger, or the tale of disaster?
Kind of makes us sound like hicks with big hearts. Or this, about North Carolina daughters:


A

nd her daughters, the Queen of the Forest resembling-




So graceful, so constant, yet to gentlest breath trembling;




And true lightwood at heart, let the match be applied them,




How they kindle and flame! Oh! none know but who've tried them.


Why do I find myself suddenly thinking of Joan of Arc?

According to legend, William Gaston was sitting in his Raleigh court office in the late 1830s when he heard a choir of young belles singing outside. He listened, became inspired, and penned these lines to the tune he was hearing. Almost a century later his pithy words became our state song. It was officially adopted on February 27, 1927.

This is Gaston's current legacy, but he was far more than a nineteenth century Bob Dylan wannabee. A close friend of the duelist John Stanly, he was so beloved and honored statewide and in his hometown that one could almost name the 1830s "the Age of Gaston."

The online North Carolina History Project suggests that Gaston was not simply feeling melancholy when he wrote this: it was a poetic comeback at our fair state's critics who had dubbed us the "Rip Van Winkle" state. Accusations abounded that we were behind the times and snoozing our culture away. There were at least some grounds for these feelings, but nonetheless they stung. Perhaps, seeing it by that light, that "plain and artless boys" line might have been tongue in cheek.

But I still wonder why he wanted to set fire to those poor belles...




This column first appeared in the New Bern Sun-Journal on February 23, 2009.
1931: Edgar Elliott: Fireman Hero
Edgar Elliott gave his life attempting to save a family on a burning barge.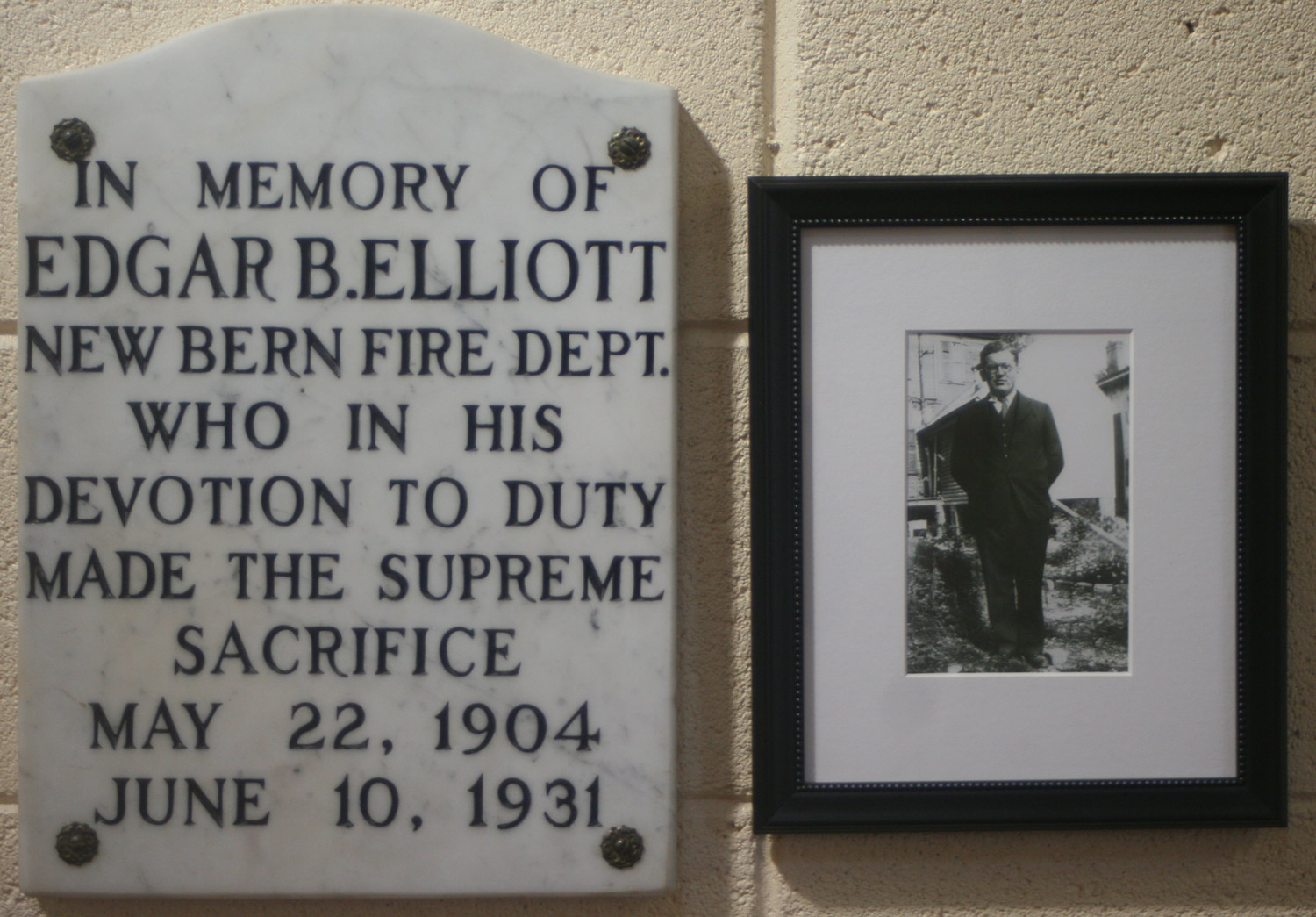 If you happen to tour the old stable at Tryon Palace, be respectful: you are visiting the home of a hero.
Early in the twentieth century the stables served as apartments. One of the residents was a young bachelor named Edgar B. Elliott—"Chubby" to his friends.
Chubby was awakened at 3:20 a.m. of June 10, 1931, when an alarm went off, indicating a fire at the E. K. Bishop warehouse at the foot of Craven Street. It would prove to be the worst fire since the 1922 blaze that had taken out a quarter of the town. Included in the complex was a truck line and railroad cars full of powdered lye. In the water were several barges.
He hopped a ride with his friend Ural Rhodes and arrived to find the warehouse fully engulfed, with burning debris falling onto the barges moored nearby in the Trent river. While other firemen turned anxiously to the blaze, Chubby thought he heard cries for help from the waterfront. He ran that way.
Captain R. N. Quidley, a Cape Hatteras man, was on one of those barges, along with his wife, his young daughter, Mercede, and first mate Cecil Henley. They had been alerted to the fire by Mack Lupton, a man on shore, and had hurried to save themselves: but the dock to which they were tied was aflame: the mooring rope had burned through setting the barge adrift, its bow and aft also in flames.
Chubby had heard Mrs. Quidley's frantic cries.
It isn't entirely clear what happened next, circumstantial evidence suggested this story: Chubby was determined to reach the family and liberated a skiff still tied to the dock. He was unsure of himself on the boat: his heavy gear was cumbersome and he didn't know how to swim. Yet with flaming debris raining around him, he tried to work the skiff toward the barge. The skiff caught fire. Mack, on shore, would remember seeing someone standing in a skiff ablaze, waving for help—but he was unreachable. Mack, himself, was able to reach the Quidleys with another boat.
It wasn't until the fire was over that Chubby's absence was known. A 36-hour search finally found his body floating in the flotsam near one of the barges. He had given his life in the ultimate act of love.
This column first appeared in the New Bern Sun-Journal on November 16, 2009.
 1963: The Birth of Carolina East Health System
...Or, as it was known until very recently, Craven Regional Hospital.
 She's a little bigger today than in 1963--and carrying a fancier name (it was still Craven Regional Medical Center when I took this shot). The building and campus has grown so large that the original building is buried out of sight behind all its additions.

It isn't often that kids would exchange a day at school for a day in the hospital, but on April 22, 1963, that's just what many did—and gladly.

One could get away with saying that Craven County Hospital was born on that day, when the new, 2 million dollar, 100-bed building was dedicated by Governor Terry Sanford, who cut the ribbon and gave one of those governor-like speeches to the crowd. According to the Sun-Journal that day, he "expressed the wish that the new Craven County Hospital might find its most service in bringing about the recovery of those ill rather than a prime demand in serving those who meet death and destruction on the highways." It sounds almost biblical and makes you wonder what med he'd forgotten to take that morning.



More than 6,500 people came to witness the dedication and explore the bowels of the historic new edifice (built, strangely enough, at the site of a former prison). School students were given time off to attend—except for members of the marching band who had to show up to play.
County Attorney Lawrence A. Stith presented the new hospital to its first chairman of the board, Luther J. Eubank. Governor Sanford concluded the program by cutting the ribbon and the visitors flowed in to visit the antiseptically new halls, touring the building independently or through organized tours until 8 p.m. No patients were disturbed, by the way: they wouldn't arrive until the 25th.
Two million was a chunk of money in those days (could they pave the parking lot with that amount today…?), and it resulted in one of the most modern, non-educational hospitals in the state. Still, the governor said, it was a bargain: per bed, the whole place cost around $1,600 a bed which was quite a bit cheaper than the national average of $22,000 per bed.
Since 1963 the hospital has changed its name (to Craven Regional Medical Center) and had added sections enough to bring it to 313 beds. You may have noticed that much of the building is wrapped in a yellow scaffolding cocoon: when this Craven chrysalis later this year, it will have grown again to 350 beds—nearly all of them private.
Craven County had technically been operating (pun accidental) since May of '62 in another location—but that is a story for another day.
This column first appeared in the New Bern Sun-Journal on May 1, 2009.